Why Use Roller Shutters on Your Commercial Premises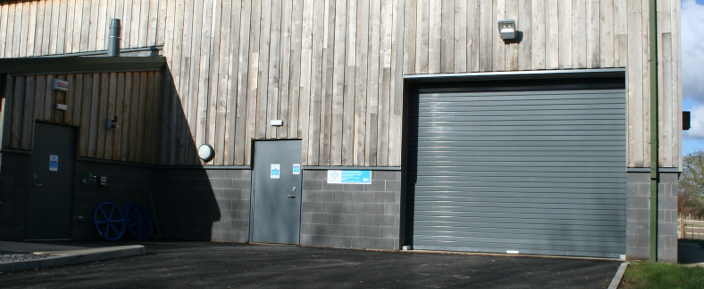 Author
Gilgen Doors
Uncategorised
---
11.10.2023
When it comes to safeguarding your commercial property, security is a top priority. Industrial roller shutters are a popular choice to enhance the security and functionality of a business.
In this blog post, we'll explore the various reasons why you should consider using roller shutters on your commercial premises.
What is a roller shutter? 
Roller shutter doors are versatile commercial doors that are designed to protect your business premises. Whether you require a compact entry door for staff or a heavy-duty rolling door for securing machinery, most roller shutters can be customised to meet your needs.
Commercial roller shutters are made from durable metal which enables the shutter to withstand harsh weather conditions, as well as regular use of the door itself. Roller shutter doors also work on either power or chain operation. An electric roller shutter door will use a different operating system depending on its size and usage; this can vary from a single-phase operated roller door built for low to medium daily usage to a three-phase operated roller shutter, built for high daily usage or where the door is large.
Are roller shutters secure? 
The design of commercial and industrial roller shutters makes them a secure door choice for most premises. A roller shutter door is designed with side seals which help to ensure that the entire structure is waterproofed whilst simultaneously providing insulation. An additional seal is also fitted on the bottom of the shutter door to provide water protection and further insulation.
All of these features, as well as their robust structure, make roller shutters ideal for protection against potential intruders.
What are the benefits of roller shutters
1. Protection Against Weather Elements
Roller shutters don't just protect your premises from intruders; they also shield your property from damaging weather conditions such as heavy rain, strong winds, or extreme heat.
Whether you need to protect your storefront or temperature-sensitive products in a warehouse, roller shutters act as a protective barrier that helps maintain a comfortable and secure environment within your commercial space.
2.  Privacy Control
Maintaining privacy is crucial for many businesses, especially those dealing with sensitive information or valuable assets.
Due to their various designs and levels of opacity, high-security roller shutters allow you to control the level of privacy you need by easily adjusting them to either let in natural light or completely block the view from the outside. In turn, you have peace of mind that the contents of your premises are protected whilst unmanned.
3. Temperature Regulation
Roller shutters offer effective insulation properties, helping to regulate the temperature inside your commercial space. This can result in energy savings by reducing the need for excessive heating or cooling, ultimately lowering your utility bills.
4. Noise Reduction
If your commercial premises are located in a noisy, high-traffic area, such as a high street, roller shutters for business can help reduce external noise levels. Depending on the nature of your business, this can create a more comfortable working environment for your employees and help to improve productivity.
5. Easy Operation
Modern roller shutters are designed for convenience. They can be operated manually or with motorised systems, making it effortless to open or close them as needed. Remote control and automated systems also offer added convenience, especially for large or high windows.
6. Durability and Low Maintenance
Roller shutters are built to last. Their robust construction and resistance to wear and tear ensure that they remain functional for many years. Maintenance requirements are minimal, making them a cost-effective security solution in the long run.
How often should roller shutter doors be serviced?
The frequency of your door servicing will depend on the usage and location of your roller shutters. For example, a roller shutter door located on the outside of your property and exposed to the elements consistently will break down much quicker than indoor roller shutters. Because of this, outdoor shutters will need to be serviced on a much more frequent basis than indoor shutters.
Additionally, if your rolling shutter doors have a consistent use cycle, parts will inevitably begin to worsen over time. Again, this will mean you will likely need to repair your roller shutter shutters more frequently than lesser-used shutters.
These factors should be taken into account when deciding how often your rolling shutters need to be serviced. However, it is important to note that legally, your roller shutters must be serviced on an annual basis.
At GDUK, we understand the challenges faced in different environments and sectors that may influence the maintenance roller shutter doors require. That is why we offer maintenance and service plans that cover all manufacturers and product types to keep your doors functioning optimally. If any issues occur, our team of professional engineers will always be on hand to repair your roller shutter doors. This helps us to prevent problems before they occur and reduce unnecessary downtime.
Get in touch with our team
Roller shutters are a wise investment for your commercial premises if you're considering improving your security. From bolstering security and privacy to regulating temperature and reducing maintenance costs, roller shutters offer a practical solution that enhances the overall functionality and safety of your business space.
If you would like to discuss the installation of roller shutters on your premises, contact a member of our team by emailing info@gdukds.com or by calling 0800 316 6994. Our team look forward to hearing from you!