Tips to Extend the Life of Your Automatic Doors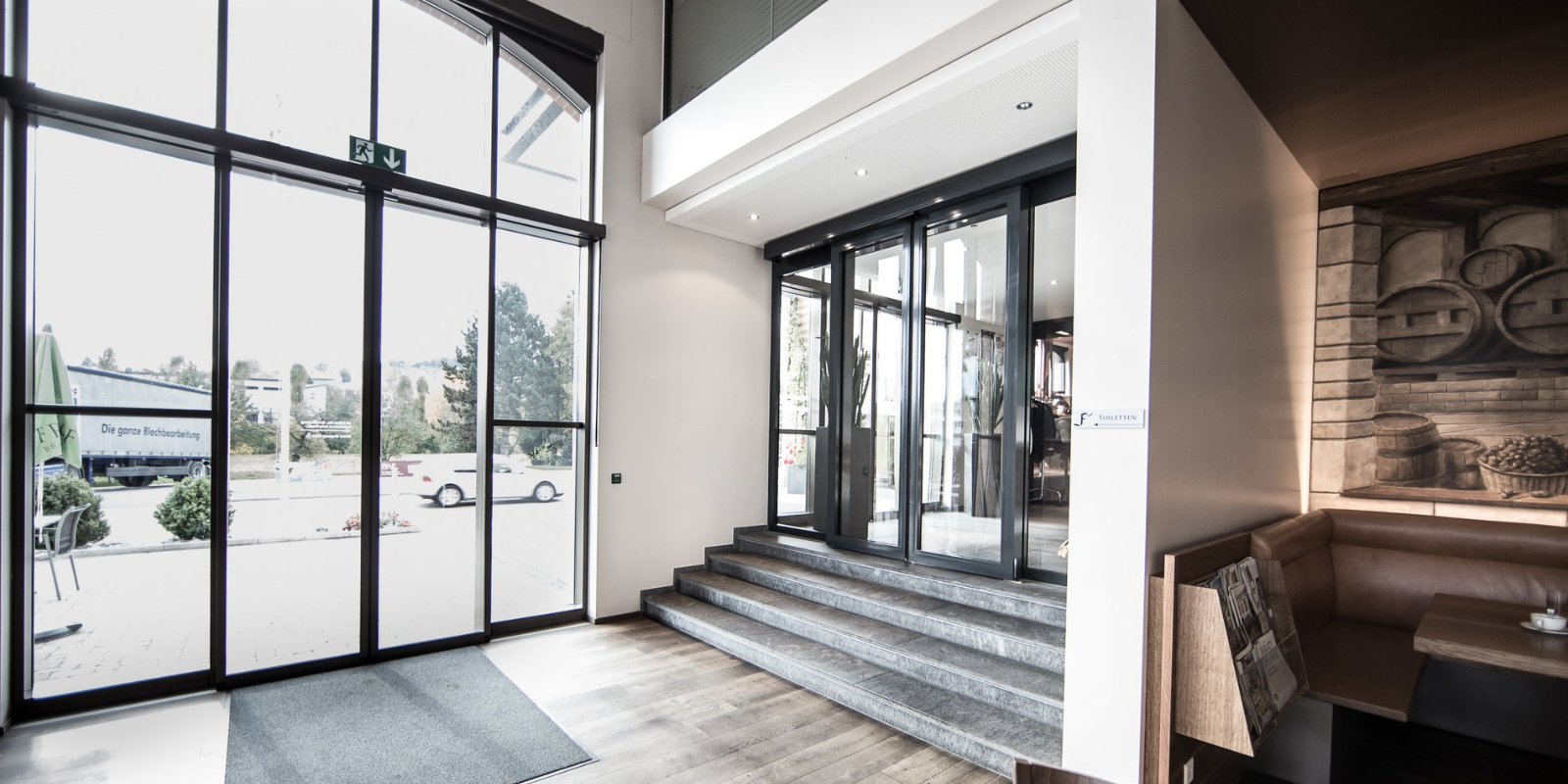 Author
Gilgen Doors
Uncategorised
---
09.11.2023
Automatic doors are a design feature found in buildings across the world. They provide convenience and a modern touch to any establishment and can make a building so much more accessible for members of the public. However, because of their simple and easy functionality, maintaining automatic doors can often be taken for granted. This isn't ideal as, like any other mechanical tool, these door systems require regular maintenance and care to ensure their longevity and reliable operation.
To ensure the consistent operation of automatic doors on your premises, we've outlined some essential tips for maintaining and extending the life of your automatic door systems.
What are the Benefits of Automatic Doors for Businesses?
Before delving into how you should maintain your doors, it is important to understand the significance of automatic doors and how they can benefit your business. These doors offer advantages including:
Accessibility: Automatic doors offer inclusive door design, allowing easy access for all, including people with disabilities or those carrying heavy items. This can help with overall business reputation and footfall on your business premises.
Energy Efficiency: Automatic door systems can help to conserve energy by closing quickly after use. This will maintain the interior temperature of your premises and minimise the need for manual heating, resulting in lower cost energy bills.
Aesthetic Appeal: With their sleek and simple appearance, automatic doors enhance the aesthetic of your business, giving it a modern and sophisticated look.
Convenience: Automatic door systems create a welcoming environment for customers and staff, making it easier for them to enter and exit your business.
Now that we've established the importance of automatic doors, we can move on to the key tips for maintaining them.
How to maintain your automatic doors correctly
Ensure regular cleaning 
Over time, dirt and debris can accumulate in the sensors and tracks of your automatic doors which can affect the responsiveness and efficiency of your entry points.
To avoid this, you should regularly clean these areas to ensure they function properly. You can do this by using a soft cloth and mild detergent across the door, including its tracks and sensor points to help prevent any damage.
Lubrication 
Lubricating the moving parts of your automatic doors is essential for smooth operation. Any maintenance above general cleaning must be undertaken by a certified EN: 16005 technician, this includes small jobs such as door lubrication.
Regularly asses the condition of automatic door systems
By performing routine inspections of your automatic door systems, you can identify any loose components like screws or bolts that could be affecting the working order of your doors.
Again, if you find any parts of your automatic doors have come loose or are not working as they should, these issues must be resolved by an authorised technician. A licensed technician will be able to tighten any required fixtures to help prevent any further damage from occurring and ensure maximum safety moving forward.
Sensor maintenance
Similarly, you should also regularly check the condition of your door sensors. Automatic doors heavily rely on sensors to detect movement so they can open efficiently and remove obstruction for the public. As a result, it is important that sensors are properly maintained to prevent issues for staff and customers.
You should keep automatic door sensors clean and unobstructed, as they are crucial for safety. Further, regular testing of the sensors should be carried out to ensure they respond effectively.
Consider scheduled professional servicing
Despite meticulous maintenance, which can help prevent minor issues, problems can still inevitably arise. Particularly where automatic doors are often exposed to harsh weather conditions and constant daily usage, issues outside your control can often occur.
This is why professional automatic door servicing is crucial, and is arguably the most important maintenance tip of all. Automatic door repair experts can quickly identify and rectify potential problems before they become major, ensuring the longevity of your automatic doors.
As a leading installer of automatic door systems across a wide variety of industries, our service technician team at GDUK are professionally trained, qualified and equipped to maintain any type or make of automatic door system. Our team are always on hand to assist you when needed and our automatic door maintenance and service plans cover all manufacturers and product types. This means you can keep your doors functioning optimally, prevent problems before they occur and reduce unnecessary downtime.
How to check your automatic door systems are safe?
As well as maintaining your automatic doors, you'll also want to check they are performing safely. Check that the door sensors are working as intended, meaning that they experiencing no delays or stutters. Additionally, you should check that the door isn't jamming as it is closing or opening, and the speeds are precise.
During your regular automatic door service, an engineer will check all these features to ensure your automatic doors are safe for operation.
Contact our team
Automatic doors are an integral part of many businesses, and maintaining them properly can extend their life significantly. By following these tips and addressing issues promptly through professional automatic door repair, you can ensure your doors remain a reliable and valuable asset for your business.
By implementing these best practices, you can reap the benefits of using automatic doors for your business whilst maximising their longevity.
If you would like further information or assistance with choosing an automatic door system or would like to discuss our servicing plans, you can contact a member of our team at info@gdukds.com, or call us on 0800 316 6994.